We are pleased to now offer a Curbside Pickup service. This service is available on the following days:
Tuesdays: 10 a.m.-4 p.m.
Wednesdays: 10 a.m.-4 p.m.
Thursdays: 11:30 a.m.-6:30 p.m.
Fridays: 10 a.m.-4 p.m.
Saturdays: 2 p.m.-4:30 p.m.
Sundays & Mondays: CLOSED

Login to Your Account to place holds online in our Library Catalogue. If you need assistance, please email us or call 705-325-2338 and a staff member will help you with your requests or recommend some titles for your next great read.
To pick up your Library items, here's what you'll need to know:
When your request is ready, a staff member will contact you by phone to make an appointment for pickup and provide easy pick-up instructions. Please wait for this notification before coming to the Library for Curbside Pickup. Wait times may be longer than usual. Please be patient with us during this time .
The pick-up window is located beside the Library entrance off the West Street Parking Lot. You will be asked to show your Library card and your items will then be placed on a table for a safe, quick, contactless pick-up. Please maintain social distancing of 2 metres.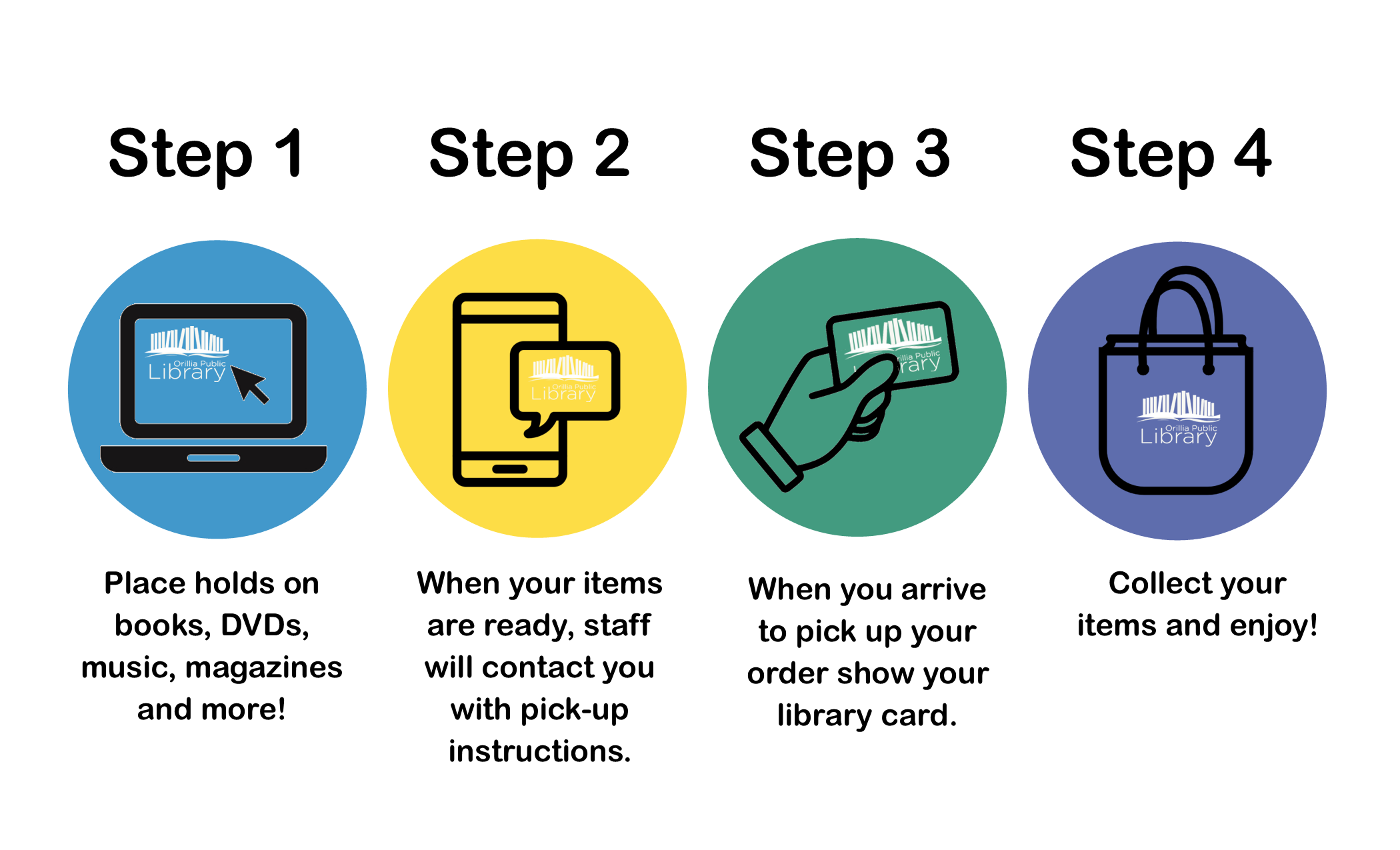 Curbside Pickup FAQs
Are Library materials safe to borrow?
We are taking precautions with all library items and putting them into a 3-day quarantine upon their return. Items will remain on your account for the 3 days while they are in quarantine, then removed. (As books cannot be effectively cleaned and disinfected, the recommendation is that library items are quarantined before use. Please do not sanitize the materials yourself as this may cause damage to the item.) You will not be charged late fines for material while it is in quarantine as fines are currently frozen.
How are you keeping staff and members of the public safe?
Staff will be practicing physical distancing measures and frequent hand washing as well as using personal protective equipment (PPE) when it is appropriate to do so. Shared surfaces will be disinfected between uses. Hand sanitizer will also be available. Staff are trained in and will follow proper health and safety measures while working.
What items are available for lending?
You can request any items from our collections that are available for lending, including: Books in all formats, DVDs, Music CDs, Books on CD. During the curbside pickup phase, you may also request Magazines and Video Games. Please note: Newspapers, Interlibrary Loans and Special Collections are not available for borrowing at this time.
How many items can I or my family request?
You may place ten holds per card in the Library catalogue at one time. Please note that requested items are not guaranteed as they may be on loan to other patrons.
How often can I place holds?
As often as you wish. The system will accept 10 holds at a time per card. Please wait to be notified that your holds are available and then pick them up on your assigned pickup day.
I have placed a hold, why does my item say "in process"?
This means we are working on your order. We ask for your patience in waiting for us to contact you as there are longer than normal wait times due to high demand.
How long can I borrow items?
All items will be checked out for a four-week loan period. We realize that it might be challenging for some of you to return materials on time so no late fees will currently be charged. However, we ask you to return items on time if you are able so that others can enjoy them.
What if I don't know what I want to borrow?
If you need assistance selecting materials, please call us at 705-325-2338 or email the Information Desk.
How can I return my Library materials?
All Library materials must be returned at the Andrew Street Book Drop. The Book Drop is open 24/7. (Adventure Kits will be given special instructions for return.)
Can I walk or bike to pick up my holds?
Yes!
Can I pick up holds for someone else?
Yes! You may pick up holds for someone else as long as you are able to bring their Library card for verification upon pickup.
If I have fines on my account can I still borrow items?
Yes! The Library has temporarily removed most blocks on accounts so that everyone with an OPL Library card can access our online items during the facility closure. If you are having trouble accessing your online account or you wish to borrow physical library materials on a blocked account, please email us or call 705-325-2338.
I don't have a Library card. What can I do?
If you are not currently a Library member and wish to use our online resources please email us or call 705-325-2338. At this time, we are able to offer Digital Memberships which provide access to our online resources only, not our physical materials.
Can I take out physical materials with my Digital Membership?
No, Digital Memberships may only be used to access online resources.
Can I donate books while the Library is closed?
No, we are not accepting donations at this time.
Am I able to come into the building to use the washroom or computers?
No, the building is not open to the public at this time.
How can I contact the Library if I have more questions?
We are answering phone messages Tuesdays to Saturdays from 9:30 a.m.-4:30 p.m. You may also email us at info@orilliapubliclibrary.ca We can answer questions, connect you to online resources and provide reading recommendations.
Please remember: