The Battle Has Begun!!
Battle of the Books is an engaging and competitive reading program for students in Grades 4-8. This program encourages students to expand their reading horizons through the discovery of new authors and genres. Each school can put together a team of up to 10 students to read and compete.
The Orillia Public Library puts together a carefully chosen list of 100 books, all of which are available for loan from the Orillia Public Library. Teams work together to divide and conquer the reading list. The books chosen are of a variety of skill levels, topics, genres, authors, and formats.
In May, the Orillia Public Library will host a tournament called The Battle of the Books, which will test the student's knowledge of the 100 books. This event involves the registered teams participating in a fun tournament of trivia, accompanied by art projects, snacks, and mini competitions. At the end of the tournament, the team with the most points will be crowned the 2022-2023 Battle of the Books winner!
How to Register
Each school can enter one team and each team can have 4 to 10 students. Contact us to register your school before November 15th.
Check out the 2022/2023 Battle List!
---
Battle of the Books Through the Years
2022 Tournament
Congratulations to our 2022 Champions: Monsignor Lee Catholic School!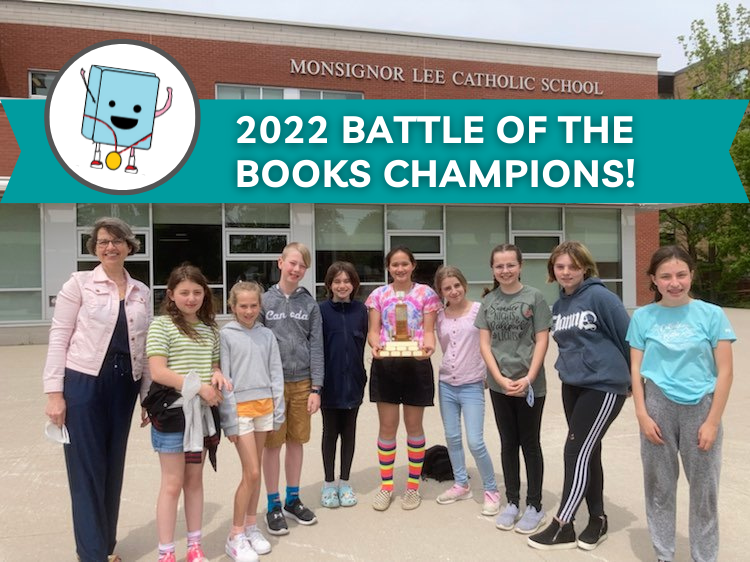 Congratulations to our past winners!
| | |
| --- | --- |
| 2019 | East Oro Public School |
| 2018 | The Homeschool Team |
| 2017 | The Homeschool Team |
| 2016 | Rama Central Public School |
| 2015 | The Homeschool Team |
| 2014 | St. Bernard's Catholic School |
| 2013 | The Homeschool Team |
| 2012 | St. Bernard's Catholic School |
| 2011 | The Homeschool Team |
| 2010 | The Homeschool Team |
| 2009 | East Oro Public School |
| 2008 | St. Bernard's Catholic School |
| 2007 | Orchard Park Public School |
| 2006 | Orchard Park Public School |
| 1998 | Orchard Park Public School |
| 1997 | Orchard Park Public School |
| 1996 | Hillcrest Public School |
| 1995 | Monsignor Lee Catholic School |
| 1994 | Hillcrest Public School |
| 1993 | Monsignor Lee Catholic School |
| 1991 | Monsignor Lee Catholic School |
| 1990 | Monsignor Lee Catholic School |
| 1989 | Monsignor Lee Catholic School |