A list of 100 books is curated by Orillia Public Library staff at the beginning of each school year. Schools make teams to gather in the month of May for a Battle of the Books tournament.
Check out our end of year Battle Bulletin!
Are you a teacher who would be interested in participating in our 2023 Battle of the Books with a school group? Contact us to find out more information!
Battle of the Books Through the Years
2022 Tournament
Congratulations to our 2022 Champions: Monsignor Lee Catholic School!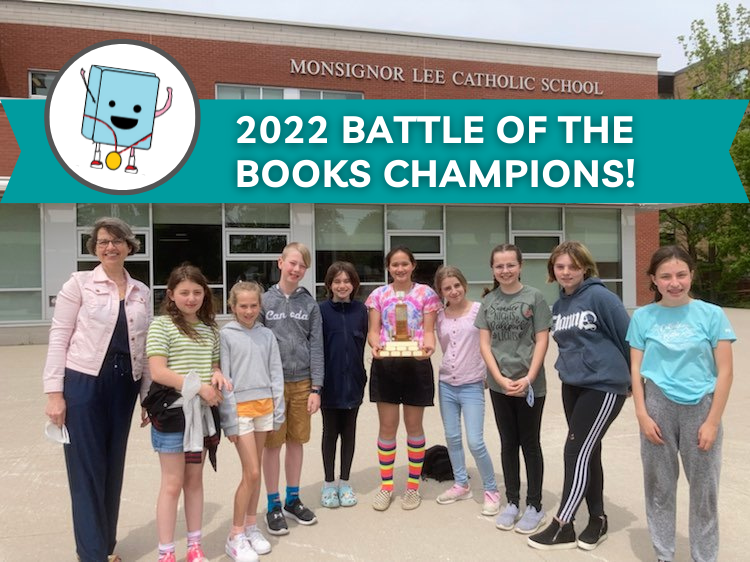 Congratulations to our past winners!
| | |
| --- | --- |
| 2019 | East Oro Public School |
| 2018 | The Homeschool Team |
| 2017 | The Homeschool Team |
| 2016 | Rama Central Public School |
| 2015 | The Homeschool Team |
| 2014 | St. Bernard's Catholic School |
| 2013 | The Homeschool Team |
| 2012 | St. Bernard's Catholic School |
| 2011 | The Homeschool Team |
| 2010 | The Homeschool Team |
| 2009 | East Oro Public School |
| 2008 | St. Bernard's Catholic School |
| 2007 | Orchard Park Public School |
| 2006 | Orchard Park Public School |
| 1998 | Orchard Park Public School |
| 1997 | Orchard Park Public School |
| 1996 | Hillcrest Public School |
| 1995 | Monsignor Lee Catholic School |
| 1994 | Hillcrest Public School |
| 1993 | Monsignor Lee Catholic School |
| 1991 | Monsignor Lee Catholic School |
| 1990 | Monsignor Lee Catholic School |
| 1989 | Monsignor Lee Catholic School |