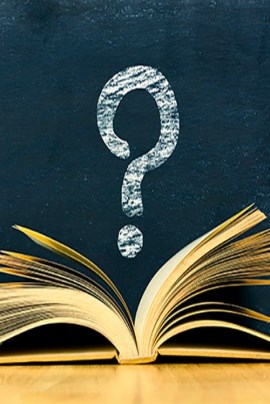 Orillia's Big Read is your Library's community reading program! We select one exceptional title each year with the goal of creating a sense of community through the shared experience of reading and discussing the same book. 2023 will be our 17th year! Stay tuned for the "big reveal in June 2023!
Check out past Big Read selections:

2022- "Daughters of the Deer" by Danielle Daniel: In this haunting and groundbreaking historical novel, the author imagines the lives of women in the Algonquin territories of the 1600s, a story inspired by her family's ancestral link to a young girl who was murdered by French settlers

2021 - "The House In the Cerulean Sea" by TJ Klune: This beautifully written tale of magic and transformation describes how a tightly wound caseworker is pushed out of his comfort zone when he's sent to observe a remote orphanage for magical children.

2020 - "Beyond the Trees" by Adam Shoalts: A thrilling odyssey through an unforgiving landscape, from "Canada's greatest living explorer."

2019 - "A Girl Named Lovely" by Catherine Porter: Insightful and uplifting memoir about a young Haitian girl in post-earthquake Haiti, and the profound, life-changing effect she had on one journalist's life.
2018 - "The Broken Girls" by Simone St. James: This novel combines the eerily Gothic with a suspenseful crime drama, intertwining a ghost story set in a boarding school in Vermont during the 1950's with a revived murder mystery case currently being dug up at its abandoned and crumbling ruins.
2017 - "Birds Art Life" by Kyo Maclear: A writer's search for inspiration, beauty, and solace leads her to birds in this intimate and exuberant meditation on creativity and life--a field guide to things small and significant.
2016 - "The Naturalist" by Alissa York: Three Americans journey down the Amazon's Rio Negro in 1867.
2015 - "The Martian" by Andy Weir: Six days ago, astronaut Mark Watney became one of the first people to walk on Mars. Now, he's sure he'll be the first person to die there. After a dust storm nearly kills him & forces his crew to evacuate while thinking him dead, Mark finds himself stranded & completely alone with no way to even signal Earth that he's alive.

2014 - "Settlement" by Ann Birch: The untold story of scandal and political intrigue in early Toronto.

2013 - "The Painted Girls" by Cathy Marie Buchanan: A gripping novel set in Belle Époque Paris and inspired by the real-life model for Degas's Little Dancer Aged Fourteen and a notorious criminal trial of the era.
2012 - "The Woefield Poultry Collective" by Susan Juby: A fresh, funny tale of Prudence, a transplanted New Yorker who inherits Woefield, a run-down farm on Vancouver Island.
2011 - "Ragged Company" by Richard Wagamese: Four homeless friends seek refuge from the weather at the cinema. A lottery win changes their lives and friendships in unexpected ways.
2010 - "Old City Hall" by Robert Rotenberg: A slick and contemporary tale of crime and justice in Toronto, Haliburton and points in between.
2009 - "The Uncommon Reader" by Alan Bennett: What would happen if the Queen visited a bookmobile? Would she neglect her duties if she became an avid reader?
2008 - "Midnight at the Dragon Cafe" by Judy Fong Bates: A cross-cultural coming-of-age tale set in small-town Ontario.
2007 - "Down in the Dumps" by Mel Malton: A fun and breezy story of an amateur sleuth in the woods of Muskoka.