Missed the 2020 OPL Virtual How-To Festival on our Facebook page on September 26th?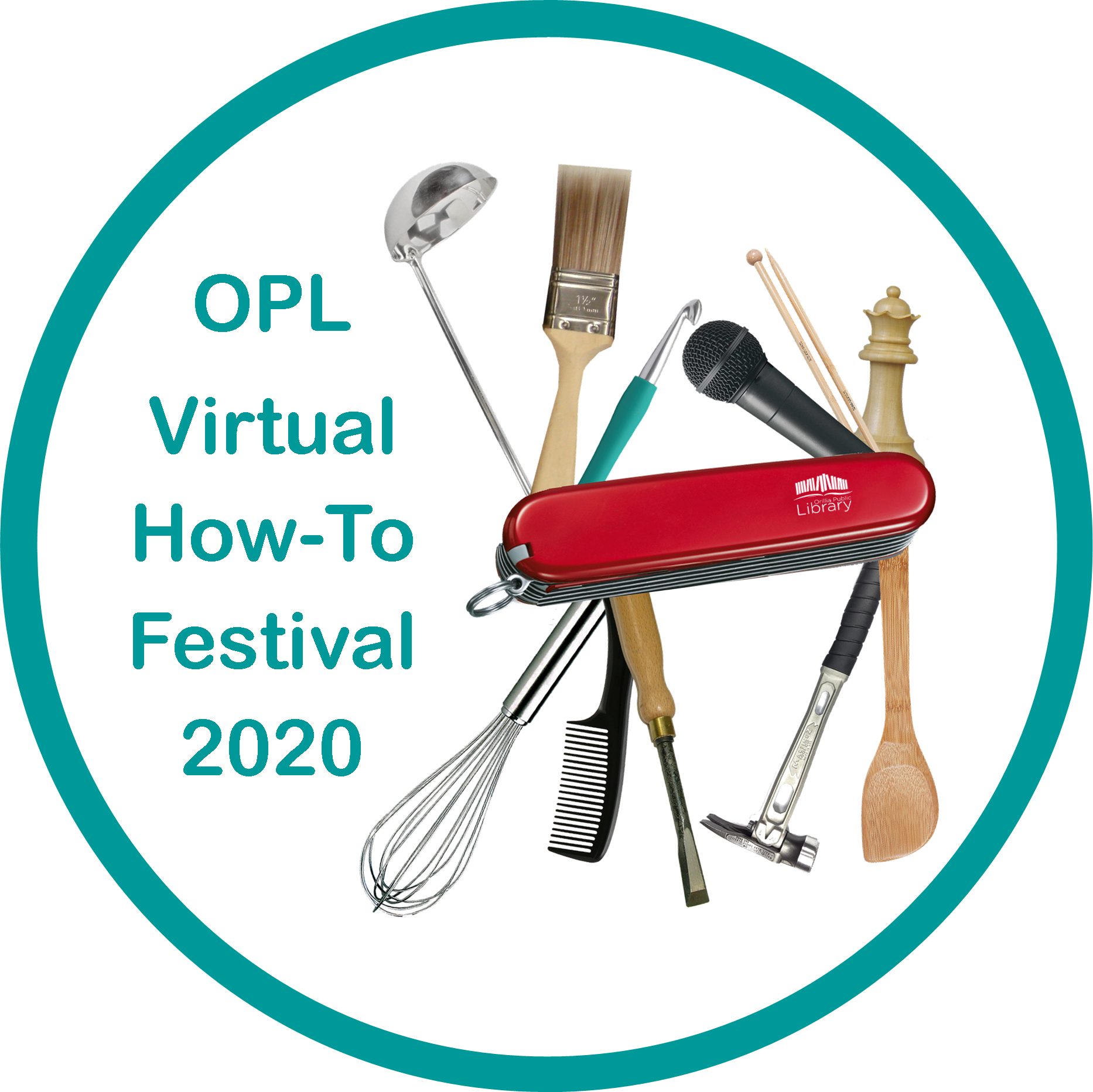 Visit our YouTube channel and watch our How-To Festival 2020 Playlist!

Videos include:
How-To Simply Meditate with Lee Kelly
Have you ever said "I have tried but I just can't meditate"? Try this short guided session to understand how you can meditate and why it's a life skill that will help you every day.
How-To Make a Paper Crane with Robin Frizell
Making things out of paper can be super fun so let's learn how to make a paper crane!
How-To Eat Great Chocolate with Georgian Chocolate Co.
The experts at Georgian Chocolate Co. will share the magic of how chocolate is made and go through the different delicious tasting notes of chocolate.
How-To Fool People Into Thinking You're a Real Baker with OPL staffer Darrin
Jealous of your friends social media "Covid Cooking" photos? Join certified non-baker Darrin Davis as he shows you how to make Instagram-worthy, fail-proof, delicious artisanal bread the EASY way, using Jim Lahey's revolutionary "No-Knead" method.
How-To Brew Beer with Couchiching Brewery
Join the folks from Couchiching Brewery for a step-by-step guide of how to brew beer in a small batch. This is ideal for those interested in homebrewing or leaning the basics of the craft - essentially a Homebrew 101!
How-To Make an Easy After-School Smoothie with Ethan (Kid Expert!)
Most kids are hungry by the time school is over, so join Ethan as he teaches kids how to make an easy and healthy smoothie, and clean up afterwards!
How-To Bake Like a Kid with Sadie (Kid Expert!)
Learn how to whip up a yummy and easy kid-approved treat with Sadie (and help from her dad).
How-To Wrap a Baby with Orillia Midwives
Learn how to snugly wrap your little one using a long length of cloth to tie a baby on to an adult both on the front and the back.
How-To Be Tech Savvy with OPL Staffer Daniel
Join OPL Tech Librarian Daniel as shows you how to save time using keyboard shortcuts!
How-To Enjoy Lego as a Family with OPL Staffers Samantha and Chanel
Samantha and Chanel will demonstrate many of the fun and creative ways to enjoy playing with Lego as a family. Follow along and build your masterpieces with the Lego you already own!
How-To Do Yoga in Ten Easy Moves (While Watching TV!) with Lee Kelly
The word is out that sitting for too long can be harmful to your health! The good news is that TV yoga is fun and easy and feels great! Let's get started!
How-To Start Researching Your Family Tree with OPL staffer Jayne
Join Jayne Turvey, our resident genealogy enthusiast, to learn the basics of researching your family tree. She will go over what information is helpful to start with, some useful web resources and what to do when your tree is done.
Please email us or call 705-325-2556 for more information.